Search results for: "Zayad Alshaikhli"
International Federation Of Sports Scien
Responsible Author: Zayad Alshaikhli | UK London, 02/17/2018, 15:43 Time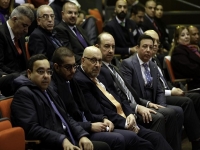 USPA NEWS -
City of Westminster college has hosted the largest scientific demonstration on sports science and technology in the digital age organised by the Scientific Academy in cooperation with the International Federation of Sports Sciences.
Delegations from 16 countries (United Kingdom, Italy, Germany, Japan, India, Sweden, United Arab Emirates, Egypt, Kuwait, Saudi Arabia, Lebanon, Kingdom of Morocco, Algeria, Oman, Palestine and Iraq) Of the specialties of sports medicine and academics in the field of sports sciences and attended the opening ceremony in addition to a large audience and ambassadors of Kuwait, Iraq and Palestine.
Samir Obeid
Responsible Author: Zayad Alshaikhli | UK London , 02/17/2018, 13:34 Time
USPA NEWS -
The International Federation of Journalists (IFJ) joins its affiliate, the Norwegian Union of Journalists (NJ), in condemning the arrest on 2 February in Baghdad of Samir Obeid. The journalist, who is a dual Norwegian and Iraqi national, was arrested after accusing the Iraqi government of corruption.
| | |
| --- | --- |
| | RAHMA-SOPHIA RACHDI |
| | Ruby BIRD |
| | Yasmina BEDDOU |
| | Daren Frankish |
| | Robbie Merritt |
This will be shown to users with no Flash or Javascript.